Posted by Marketing Team on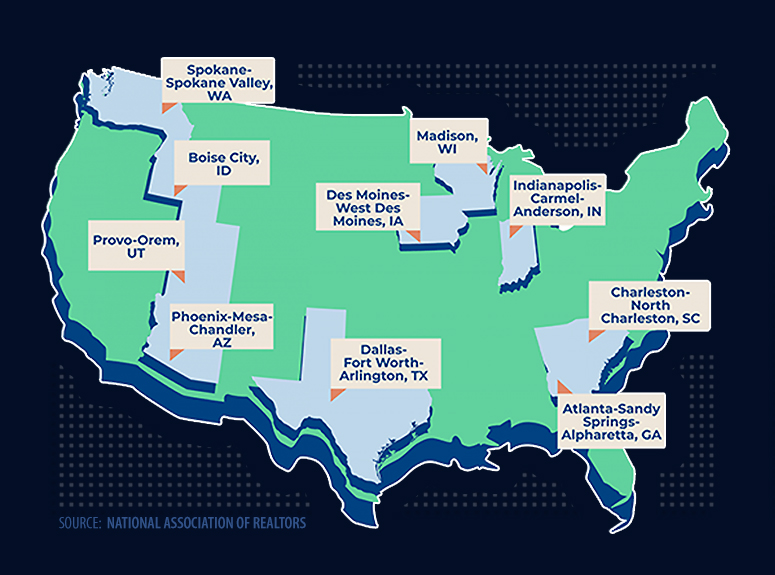 The National Association of REALTORS® recently released a report of the Top Ten Markets During and in a Post-COVID Environment in 2021-2022. Among major metro areas such as Atlanta, Dallas, Phoenix, and Provo, Boise carved its place into the Top Ten list - showing resilience during the pandemic and forecasted for continued high performance in a post-COVID-19 environment.
The primary indicators that NAR analyzed in measuring these markets' growth and recovery potential included:
1) Fraction of the workforce working from home (2019)
2) Share of multi-generational households (2019)
3) Net domestic migration in a metro area (2019)
4) Movers from expensive West Coast areas moving into another metro area (2018)
5) Unemployment rate (September 2020)
6) Share of workers in retail trade, leisure and hospitality industries (2019)
7) Small business openings relative to January 2020 (Nov 2020)
8) Mobility to retail and recreation places relative to January 2020 (Nov 2020)
Of these indicators, the Boise City metro area was noted for being a highly attractive area to movers on the West Coast.  It also ranked above average in the percentage of work from home workforce, at 7.7%.  Additionally, Boise has retained one of the healthiest measures of mobility to leisure and recreational areas, only 5.1% below its pre-pandemic level.  It is no surprise that West Coast migrators are looking to Boise as they seek a backyard recreational experience with new work from home environment flexibility, fortunately aiding in our market's resilience despite this year's economic challenges. 
Read the full National Association of REALTORS® report here.
Agent Relation:
Al Marino
Bob Mitchell
Brent Wilson
Brianna Miller
Chris Pearson
Dan Minnaert
Devin Pierce
Gavin Phillips
Holly Chetwood
Jim Boyd
John Stevens
JP Green
Karena Gilbert
Laurie Reynoldson
Lenny Nelson
Mark Schlag
Michael Ballantyne
Mike Greene
Mike Keller
Nick Schuitemaker
Peter Oliver
Sam McCaskill
Zack Stoddard