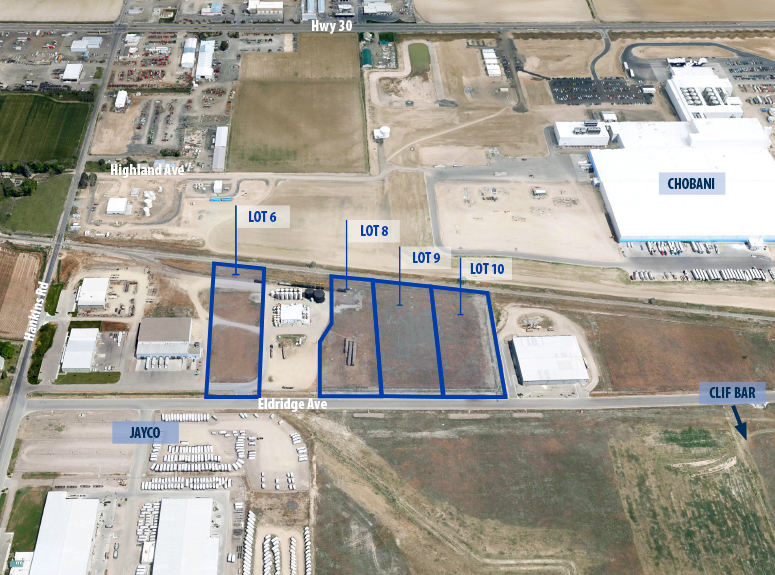 TOK Commercial is proud to offer the Twin Falls Incom Industrial Park lots for sale, located at 3125-3249 Eldridge Avenue in Twin Falls, Idaho.
The Magic Valley's industrial vacancy has decreased to 0.9% creating exceptional demand for new industrial product. As a leading area for manufacturing in the state, southern Twin Falls is home to many major manufacturers including Chobani, CLIF Bar and Jayco. This area of Twin Falls houses a vast majority of the area's industrial due to its convenient access to major roadways as well as rail access throughout.
Perfectly positioned in this established industrial area — within eye site of the CLIF Bar, Chobani and Jayco facilities — sits the Twin Falls Incom Industrial Park lots. These lots are located just off Hankins Road and Eldridge Avenue with desirable rail access on the northern property lines of each lot. Access to Highway 30 is less than a mile to the north, allowing for convenient access within minutes from this major arterial. There are four prime industrial lots available for sale, ranging in sizes from 2.42 acres to 3.16 acres. Each lot is zoned M-2 making them well-suited for a variety of heavy manufacturing uses.
With the increasing area demand for industrial space and the prime, rail-served location of these lots, the Twin Falls Incom Industrial lots present a tremendous industrial development opportunity in a primary manufacturing area of the Magic Valley.
For more information, please contact listing agents Grayson Stone and Dan Wilhelm.