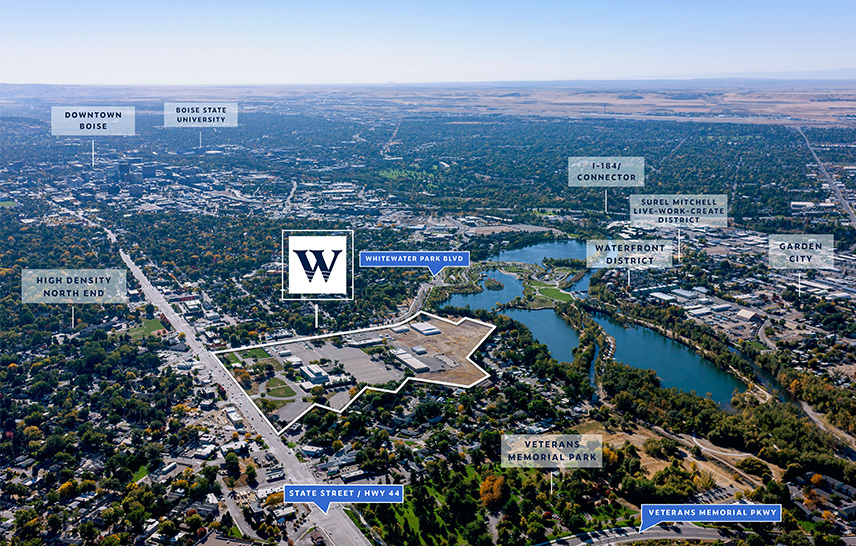 TOK Commercial is proud to present the exclusive Call For Offers on the unmatched, ~44 acre mixed use redevelopment site.

This once in a lifetime offering is the largest developable parcel in Boise's downtown, west or north end markets — fronting bustling State Street/Hwy 44 and directly on the shoreline of the gleaming waters of Esther Simplot Pond.

The property is surrounded by…

🔹The Boise River & Greenbelt Pathway
🔹Whitewater Park, Quinn's Pond, Esther Simplot Park, & Veterans Memorial Park
🔹Primary Transportation Spines – State Street, Whitewater Blvd, Veterans Memorial Pkwy, and I-184
🔹Rapid West End Wave of Development
🔹Capital Improvement Projects – such as, CCDC's State Street Urban Renewal Plan & 30th Street District Capital Improvement Plan

This exclusively rare listing is already catching the attention of multiple local news outlets, touting the magnitude of this magnificent opportunity. Deliver desirable amenities to the underserved, highest density residential area in Boise!

Offers are being accepted through July 14 before 5:00 PM, MST.

For more information and offer submission details, please visit our website here.
---