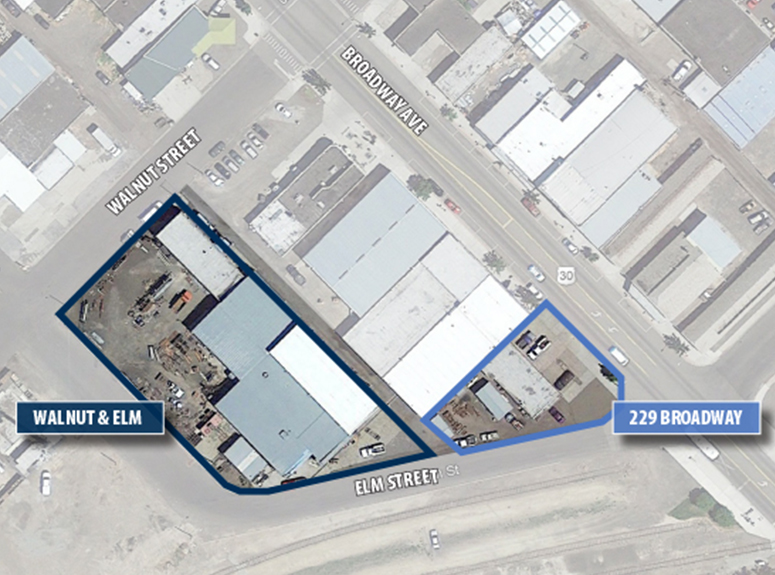 TOK Commercial is proud to offer Buhl Industrial for sale, located at 229 S. Broadway Avenue S. in Buhl, Idaho. Located just 16 miles west of Twin Falls on Highway 30, Buhl is surrounded by the area's primary manufacturing, distribution, and agriculture.
Buhl Industrial offers an excellent and conveniently located industrial property with yard space in the heart of Buhl, Idaho. Located on Broadway Avenue, the property sits on the area's main arterial. Surrounding businesses include Cloverleaf Creamery, Apex Warehouse and Distribution, Reed Grain & Bean, Nutrien Ag Solutions, Rangen Inc, 1000 Springs Mill, Cedar Grove Warehouse, and more.
The offering consists of two separate parcels totaling 0.99 acres. The 229 S. Broadway Avenue parcel holds a 1,840 square foot shop building with multiple overhead doors. This corner parcel provides easy access off of both Broadway Avenue and Elm Street with additional parking or yard space. The parcel at Walnut and Elm Street houses multiple industrial buildings totaling 15,676 square feet, also with numerouse overhead doors. In addition, this parcel supplies a significant amount of fenced yard space accessible from 11th Avenue and from the drive-thru access of the Elm Street fronting building. The area's railway runs just south of the property on the opposite side of Elm Street.
Surrounded by the area's primary manufacturers, this well-located offering allows for a unique industrial opportunity in Buhl, Idaho. To find out more about Buhl Industrial please contact listing agents Grayson Stone and Dan Wilhelm.