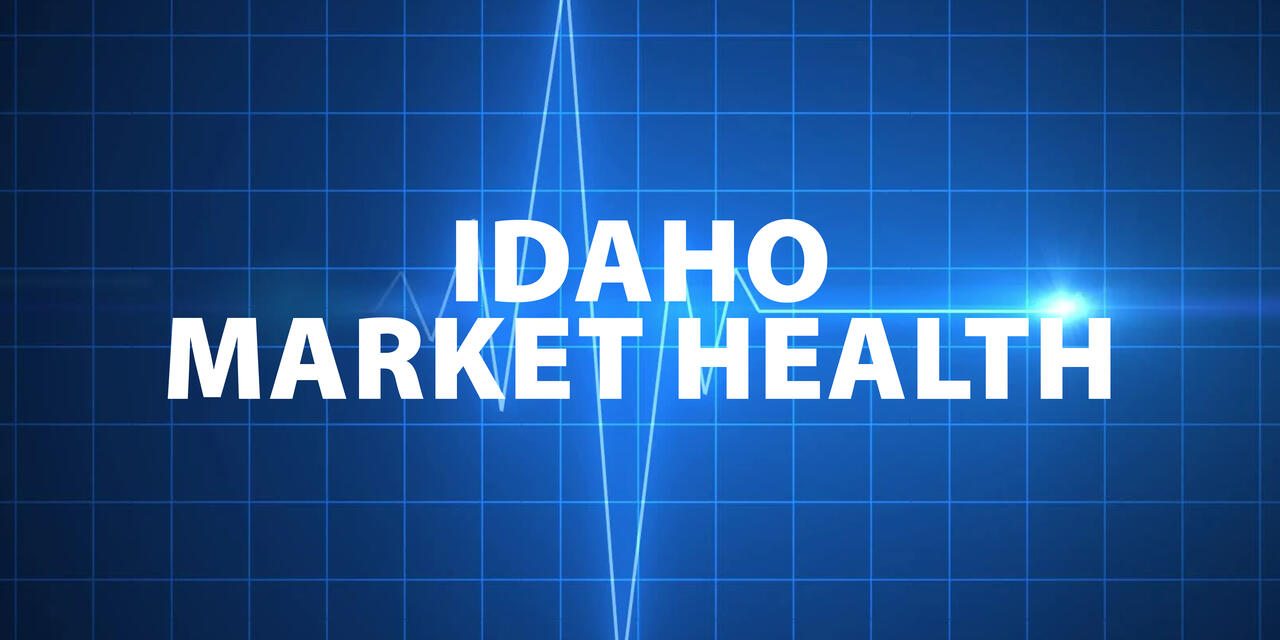 INSIGHTS | THE IMPACT OF NEW BUSINESSES ACROSS IDAHO
TOK's Market Health series offers readers a collection of data and graphs that work to explain Idaho's commercial real estate markets. This month, our focus is "New to Market" (NTM) tenants and their impact on office, industrial, and retail product across the state.
OFFICE | Many of the largest office lease transactions involve companies that are new to Idaho.
Boise MSA: NTM tenants secured locations in Boise's downtown core as well as suburban submarkets, and were responsible for 15.3% of office space leased.
Magic Valley: Office property lease-ups gained significant traction supported by NTM tenants that launched in the market, accounting for 9.3% of square footage leased.
Eastern Idaho: The 7.7% of leased space attributed to NTM tenant activity contributed to plummeting office vacancy rates.
The takeaway? The businesses that are moving into Idaho are exiting urban areas that have been hit hard by the pandemic. Idaho's sensible approach toward facilitating working in the office is offering these companies the ability to attract, retain and utilize the talent that drives their businesses forward, engages teams, and nurtures corporate culture.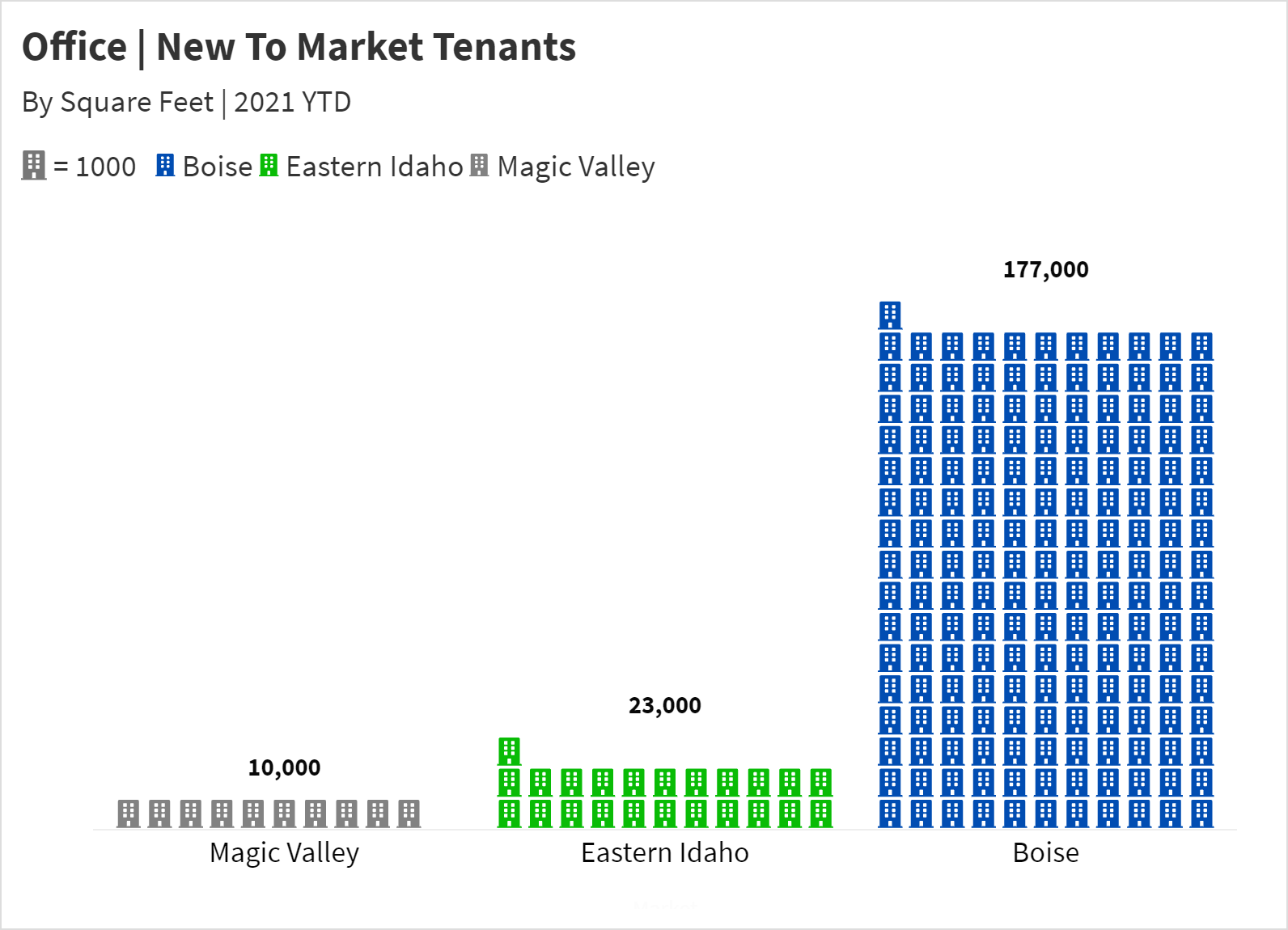 INDUSTRIAL | Unprecedented demand is leading Idaho's industrial markets into uncharted territory.
Boise MSA: NTM tenants flocked to the Boise Valley and supplied a staggering 31.8% of industrial space leased in the market.
Magic Valley: NTM tenant demand accounted for 16.4% of space leased and drove down total vacancy rates to 0.8%.
Eastern Idaho: NTM tenants secured 10.5% of leased industrial space providing positive momentum for strong absorption numbers.
The takeaway? The industrial businesses moving into Idaho are contributing to the current imbalance of supply and demand in the sector. New industrial developments slated for delivery over the next few months will be very important to the market's ability to achieve stability and should alleviate supply-side pressures related to strong tenant demand. Healthy vacancy numbers for the Industrial sector typically reside in the 2.5% to 4.3% range.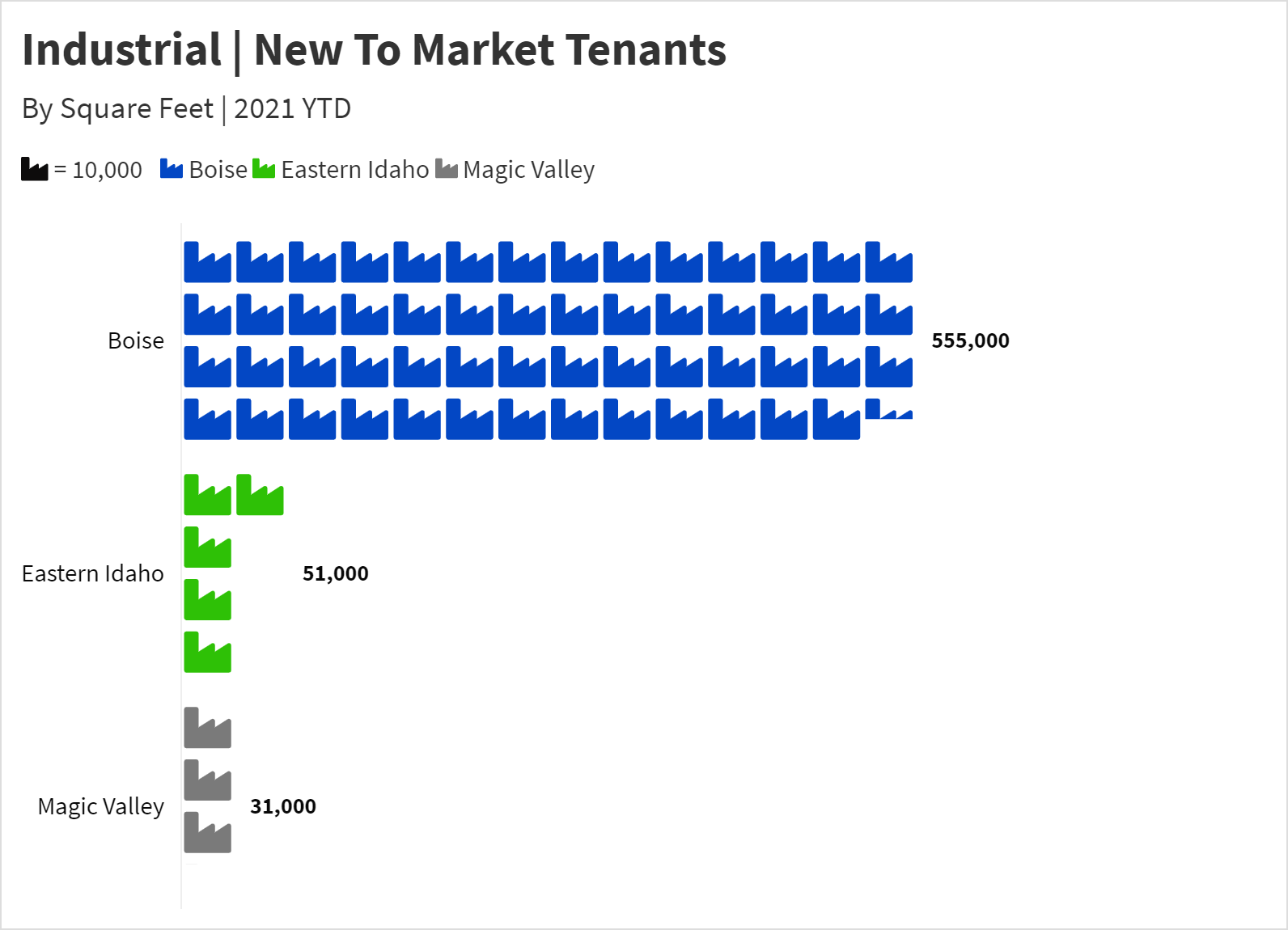 RETAIL | Retail's leasing momentum is substantial and has been positively impacted by NTM tenants.
Boise MSA: 9.8% of retail spaces leased were provided by NTM tenants seeking space in high-growth submarkets.
Magic Valley: NTM tenants accelerated market leasing activity supplying 18.8% of retail square footage leased and contributing to the decline of both total and unanchored vacancy rates.
Eastern Idaho: Leading all Idaho markets, NTM tenants in Eastern Idaho grabbed 19.0% of retail space leased and newly opened establishments included restaurants and service providers.
The takeaway? Whether it's in restaurants, with service providers, or at traditional consumer storefronts, Idahoans are spending money and time in retail establishments. NTM retailers and restaurants across Idaho are positively contributing to a healthy market balance between vacancy and absorption.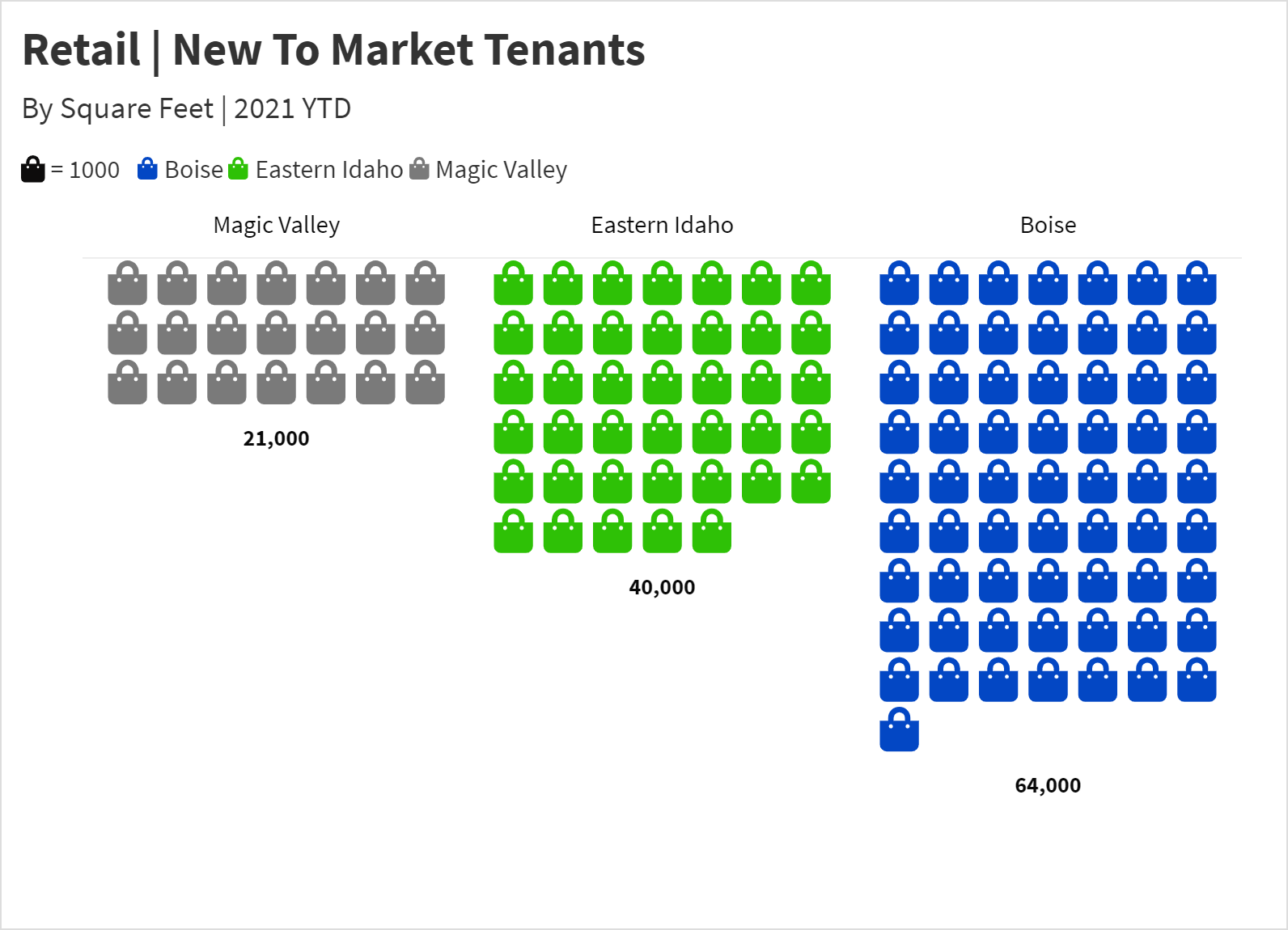 Learn more about New to Market Tenants
Commercial Real Estate News Articles
Wall Street Journal: Amazon plans retail locations akin to department stores | The tech giant is expanding into brick and mortar retail and plans to open several large physical locations."
Yahoo!Finance: Taco Bell puts futuristic spin on new restaurant coming in 2022 | "The 3,000 square-foot restaurant design is roughly equal to the existing footprints of Taco Bell locations, but is expected to see higher foot traffic. To help with the flow of customers, there will be digital check-in screens for mobile order customers to scan in their order with a unique QR code, another staple of the COVID-19, touchless era."
Commercial Observer: Goldman Sachs swarms to real estate sustainability with beehive program | "The initiative is expected to produce 1,000 pounds of locally and short-circuit-produced honey from 1.5 million bees as a starting point. Tenants of each location — through online platforms — can track the beehives' health and productivity over the course of the season, and meet the bees while viewing the honey extraction process."
Input Magazine: Nike's new immersive Rise store | "New concept store in Seoul, South Korea features personalized, data-driven features designed to create interactive experiences for people who come into the store."
CNBC: 25% of US malls are expected to shut within 5 years | "The malls most at risk of going dark are classified as so-called B-, C- and D-rated malls, meaning they bring in fewer sales per square foot than an A mall. An A++ mall could bring in as much as $1,000 in sales per square foot, for example, while a C+ mall does about $320."
Bloomberg: Lumber falls to a nine-month low extending retreat from record | "49 percent of lumber dealers and manufacturers in July had excess lumber capacity. Meanwhile, none reported inventories that were "very tight."
Axios: Retail's mixed bag | "Retail sales in July declined by 1.1% from June levels ... If there's one bigger picture theme that explains the report, it's that consumers are spending more on services and less on goods, reversing behavior adopted during the lockdowns."
Bisnow: The capital markets have already entered the post-covid era | "Different asset classes of commercial real estate may emerge from the coronavirus pandemic forever changed, but looking at the capital markets overall, normalcy might finally be restored."
Idaho News Articles
Forbes: 10 states with the biggest growth in GDP | "#3 Idaho. Idaho is no stranger to economic and population growth, though the latter grew noticeably when the pandemic hit and urban workers on the West Coast relocated to the state in droves ..."
IdahoNews.com: Idaho Ranks Second in US Population Growth, Behind Utah | "Idaho ranked second in population growth out of all of the states in the U.S. According to the Idaho Department of Labor, Idaho's population grew from 2010 to 2020 by 17.3 percent. The Gem State was a close second behind Utah's 18.4 percent.