Posted by Marketing Team on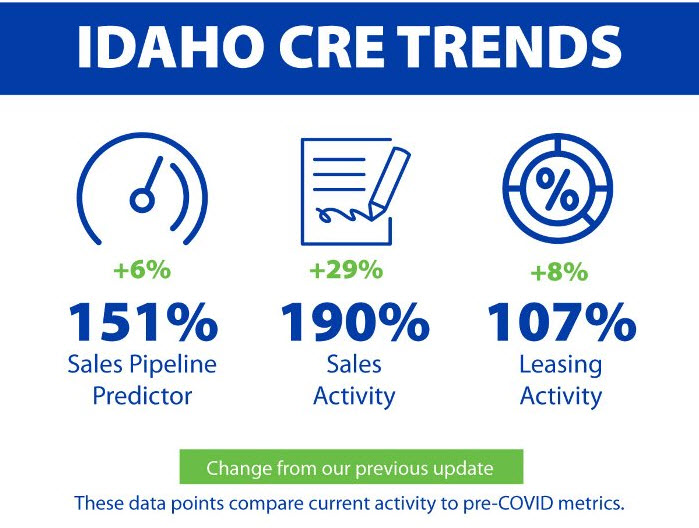 While the impact of COVID-19 on Idaho's commercial real estate markets continues to play out, as we enter 2021, it's very helpful to consider a few key metrics which we believe best highlight the overall condition of individual product sectors.
OFF-MARKET TRANSACTIONS
The fact that Idaho's commercial real estate market is frothy is acknowledged by industry professionals in markets from Boise to the Magic Valley and Eastern Idaho. TOK's Sales Pipeline and Activity metrics clearly highlight the exceptional level of sales activity occurring across Idaho. The exact nature of Idaho's record-breaking sales activity has been one of brokerage's most interesting and hotly debated topics. TOK analyzed closed transaction comparables and found that nearly 25% of transactions that closed in the last 12 months were off-market offerings.  
Off-market transactions, those which are not publically listed for sale, are particularly difficult to track since they never officially hit the general market. Because of Idaho's limited shared transactional information, the actual number of off-market transactions in the state is most likely closer to one-third of the deals that were completed in 2020. When the fact that 6% of last year's sales transactions were sold in under 30 days (an untenable achievement for the majority of commercial sales), it becomes apparent that many of these transactions had already progressed to a level of serious negotiations prior to even hitting the open market.
Despite the economic impact of the pandemic, property values have held steady or risen. Very low-interest rates and strong government-backed Small Business Administration programs have also helped strengthen pricing, particularly for smaller properties. A recent KIVI-6 news story highlighted the vibrancy of Idaho's commercial real estate sales which are up 65% according to our data. A National Association of Realtors report on "Commercial Real Estate Trends and Outlooks" notes an uneven recovery across the U.S., particularly in smaller properties valued at less than $2.5 million with "stronger investor interest for land, multifamily, and industrial properties than for hotels, retail, and office properties."
LEASE RENEWALS
The commercial real estate leasing strategies of companies both large and small, offer an important window into their current and expected business prospects. Based on their leasing strategies, tenants in Idaho appear to be very optimistic about future economic growth.
Generally, Industrial tenants typically lease (and renew) their space for shorter terms, due primarily to the amount of Class B/C spaces that are available and which usually offer month-to-month leases or have only short-term leases in place. Industrial leasing strategies have primarily remained predictably similar to their historic terms. 56% of Industrial tenants have renewed their leases for the same or similar term lengths, while 33% have shortened the duration of their leases. Those companies that contract for shorter lease terms are typically reacting to very tight market conditions and are expecting that their business growth will require additional space in the near future.
Retail leasing strategies also seem to be very much in-line with pre-pandemic trends. 69% of Retail lease renewals were for term lengths similar to those of 2019 while only 19% sought shorter terms. In Idaho, many restaurants and retailers were able to adjust their delivery of services and goods in very effective ways, and are confident that their business models work in both "normal" and socially-distanced scenarios.
In contrast to Industrial and Retail leasing strategies, 40% of Office tenants are renewing with shorter lease terms while another 40% have signed leases for more typical term lengths. Office tenants have adjusted their renewal strategy most dramatically due to the corporate world's reticence toward risk and workforces which are advocating for hybrid work structures that embrace both in-office and remote work. Currently, Office tenants are adopting a "wait and see" approach to leasing, where flexibility rules (Forbes). Going forward, companies realize that their office spaces' emphasis will be focused on cultivating collaboration, innovation, and culture creation. With increased vaccination rates and dropping COVID infections, more employers are beginning to look for space and they are acutely aware that inviting offices could become a marketplace differentiator for talent acquisition and retention.
As Idaho continues to benefit from high in-migration rates, well-positioned properties could see corporate relocations and pent-up demand could drive absorption rates up and vacancy rates down as business revenues improve.
THE JOBS MARKET
Market Optimism
Job growth surged in February 2021 across the nation amid a successful initial vaccine rollout, dropping COVID-19 positivity rates, and more restaurants opening for business (CNBC.com). The Bureau of Labor Statistics reports that the labor market created 379,000 jobs in February which is more than twice as many jobs as were created in January 2021 (The Indicator from Planet Money). February's national unemployment rate was a bit of a mixed bag, as "the national unemployment rate, 6.3 percent, fell by 0.4 percentage points over the month but was 2.8 points higher than in January 2020" (US Bureau of Labor Statistics).
Idaho's Leadership
Idaho's economy currently leads the rest of the country. Employment in Idaho (at the end of 2020), was actually higher than state employment numbers pre-pandemic (BusinessInsider.com). A recent report from the Idaho Department of Labor found that "Idaho's labor force continued to show year-over-year gains, up 1.2% (+10,261 people) from January 2020." Within Idaho, year-over-year data also showed that Eastern Idaho achieved the strongest job performance, with the Idaho Falls MSA posting the greatest job gains across the state at 2.8% (Idaho Department of Labor).
The U.S. Bureau of Labor Statistics unemployment data spotlights Idaho's strong performance (as compared both regionally and nationally) in a very interesting animated graph that tracks state unemployment rates over the last decade, from 2011 to 2021. The graph can be accessed here.
To learn more about Idaho's commercial real estate market conditions, subscribe to our Market Health email reports, here.
Agent Relation:
Al Marino
Bob Mitchell
Brent Wilson
Brian Wilson
Brianna Miller
Chris Pearson
Dan Minnaert
Dan Wilhelm
Darren Puetz
Devin Pierce
Dustin Mortimer
Gavin Phillips
Grayson Stone
Holly Chetwood
Jim Boyd
John Stevens
John Stevens
JP Green
Karena Gilbert
Laurie Reynoldson
Lenny Nelson
Mark Schlag
Michael Ballantyne
Michael Ballantyne
Mike Greene
Mike Keller
Nick Schuitemaker
Nick Terry
Peter Oliver
Sam McCaskill