Posted by Marketing Team on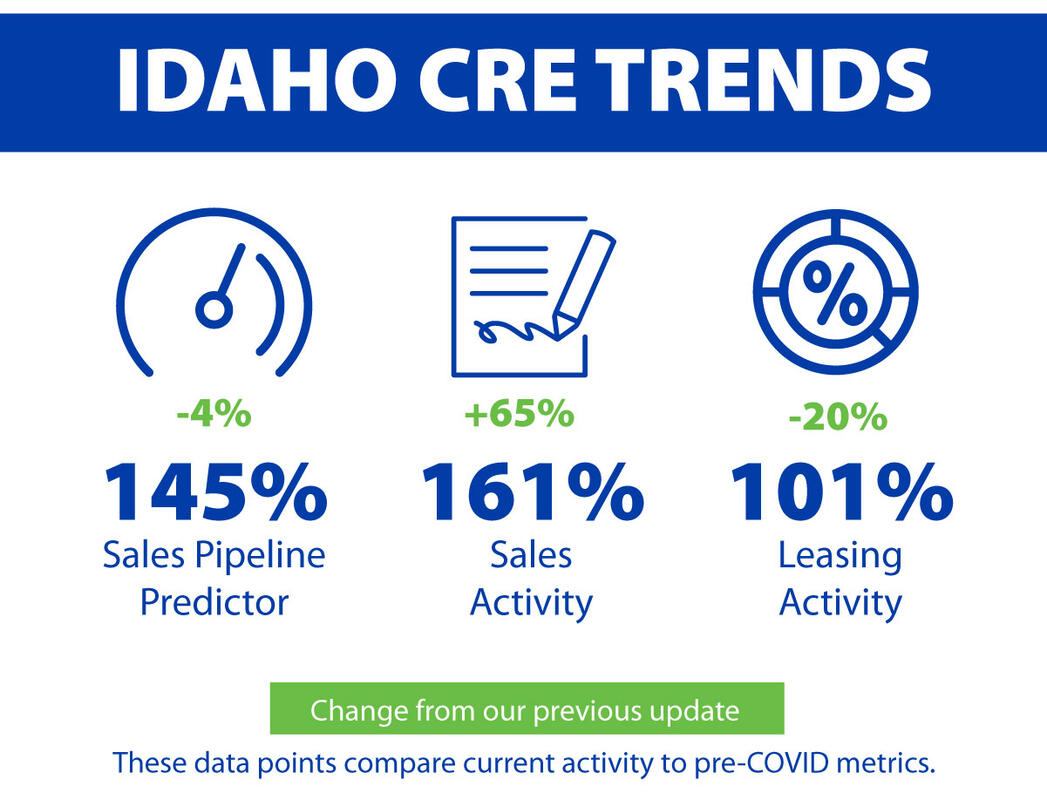 While the impact of COVID-19 on Idaho's commercial real estate markets continues to play out, as we enter 2021, it's very helpful to consider a few key metrics which we believe best highlight the overall condition of individual product sectors.
OFFICE SPACE UTILIZATION
National Markets
A trending topic in commercial real estate is office space utilization. Across the country, stories of corporate under-utilization of office space are widespread. National media is reporting that workplace-return dates in major urban centers are getting pushed to September 2021 or beyond (Wall Street Journal). By the end of 2020, only 24% of office workers in the 10 largest U.S. markets had physically returned to their workplaces (Trepp). In Seattle, while the recovery in employment among workers who typically work in offices is healthy, demand for office space has dropped by over 80% compared with pre-pandemic levels (Seattle Times).
Boise Valley MSA Market
The Boise MSA's office market offers a very different story. With an influx of new-to-market office users accounting for 29% of 2020's office leasing transactions and another 30% attributed to local business expansion, office properties are benefitting from interested parties both within Idaho and out-of-state. While office use has been impacted by social distancing measures required by the pandemic, our research found that 85% of the office space in our management portfolio was being utilized by tenants, with only 15% of office space either being significantly under-utilized or not utilized at all. As office staff tire of work-from-home environments and yearn for workplace culture and collaboration synergies, office space utilization will continue to grow.
LAND VALUATION TRENDS
Accurate pricing structures are critical in evaluating land properties' position in any market. The valuation process has proven particularly challenging in Idaho's red-hot commercial real estate markets as developers of office, retail, industrial and residential projects search for sites to acquire and develop while pricing for ground continues to rise - much like construction costs. An exhaustive analysis of land transactions from 2017 through 2020 indicates that demand is outpacing supply and consequently is driving prices higher.
Industrial
The median price per square foot for industrial development ground has increased year-over-year in both Ada & Canyon Counties. Ada County industrial land prices have risen by $3.50/SF between 2017 and 2020, a surge of 49.7%. In Canyon County the median price for industrial ground spiked $2.75/SF during the same time period, posting 63.8% growth. The median price per square foot for all industrial land sales across the Boise Valley has increased by 36.8% from 2017 to 2020.
Retail
The median price per square foot for retail pad sites (less than 2 acres) across the Boise Valley MSA has posted year-over-year growth with values rising by $6.29 per square foot from 2017 to 2020. The median price per square foot for all retail land transactions across the Boise Valley has increased by $4.50 or 27.5% since 2017.
Office
Unlike the steady growth in value enjoyed by both the industrial and retail land sectors, the pricing of office development ground has fluctuated over the past four years. The highest median and average prices per square foot occurred in 2018 with the average price per square foot in Ada County peaking at $9.84. Average land values during the other years in our analysis bounced between $6 to $8 with last year's average prices in Ada County rising $1.16 (13.3%) between 2019 and 2020. The median price per square foot for all office land transactions across the Boise Valley last year ticked down slightly, to $5.99.
CONSUMER CONFIDENCE
National Economy
Economists and business leaders are both beginning to signal the demise of the pandemic-induced economic slow-down, pointing to a diverse array of indicators that include: New York City's recent move to open indoor dining (albeit at 25% capacity), the Federal Reserve's likelihood to remain accommodative on monetary policy, and the healthy consumer and corporate cash balances that are forecast to fund a veritable buying spree once the economy completely opens up. In a recent CNBC interview, Tilman Fertitta, Landry's, Inc. Chairman/CEO opined, "The consumer is coming back. I'm telling you, where we can do business, we are doing business ... [t]his is going to be the Roaring Twenties." (CNBC)
Idaho's Economy
Idaho continues to lead the nation in economic resilience and the state has posted one of the fastest economic recoveries in the country as evidenced by data shared in a new report by the Idaho Department of Labor (MSN News, Idaho News Channel 6). In Eastern Idaho, Idaho Falls recently topped the Milken Institute's list of "Best Performing Small City Economies" jumping from 2019's seventh-place finish to first place in 2020 (Post Register).
Consumer Confidence
While Consumer Confidence levels dipped to 76.2 in February, Richard Curtin, Surveys of Consumers Chief Economist attributes most of the decline "with the entire loss concentrated in the Expectation Index and among households with incomes below $75,000."
Adding context to the sluggish Consumer Confidence data, University of Michigan's researchers mentioned, "The overall level of the Sentiment Index has shown only relatively small variations since the pandemic started, averaging 81.5 in 2020. Needless to say, sentiment levels were well below the average of 97.0 from 2017 to 2019. Importantly, the level of key confidence indicators remained well above prior cyclical lows despite the sudden historic collapse in economic activity." (University of Michigan)
To learn more about Idaho's commercial real estate market conditions, subscribe to our Market Health email reports, here.
Agent Relation:
Al Marino
Bob Mitchell
Brent Wilson
Brian Wilson
Brianna Miller
Chris Pearson
Dan Minnaert
Dan Wilhelm
Darren Puetz
Devin Pierce
Dustin Mortimer
Gavin Phillips
Grayson Stone
Holly Chetwood
Jim Boyd
John Stevens
John Stevens
JP Green
Karena Gilbert
Laurie Reynoldson
Lenny Nelson
Mark Schlag
Michael Ballantyne
Michael Ballantyne
Mike Greene
Mike Keller
Nick Schuitemaker
Peter Oliver
Sam McCaskill
Zack Stoddard