Posted by Marketing Team on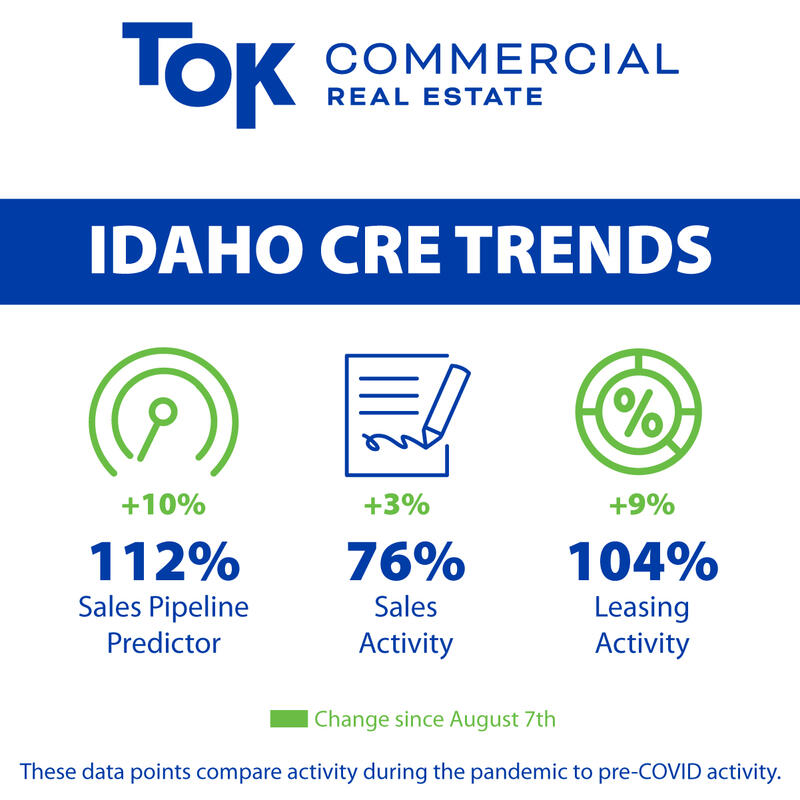 Even as the stock market posts record-setting gains, TOK Commercial's most recent data points to impressive gains for both sales and leasing activity in commercial real estate markets across Idaho.  While the trends are very encouraging, they also pose nuanced complexities that commercial real estate participants are grappling with. 
For example, while leasing activity is very strong, 40% of lease renewals include shorter term durations - as business owners aren't eager to risk long-term commitments due to the continued uncertainty of COVID-19's impact on both public health and the economy in the near-term. 
Likewise, tenant rent delinquency rates are dropping, but primarily in those properties where landlords and tenant have worked together to reach positive, complimentary negotiating positions, most times assisted by agent or property manager facilitation.
To learn more about Idaho's commercial real estate market conditions, subscribe to our Market Health email reports, here.
Agent Relation:
Al Marino
Bob Mitchell
Brent Wilson
Brian Wilson
Brianna Miller
Chris Pearson
Dan Minnaert
Dan Wilhelm
Darren Puetz
Devin Pierce
Dustin Mortimer
Gavin Phillips
Grayson Stone
Holly Chetwood
Jim Boyd
John Stevens
JP Green
Karena Gilbert
Laurie Reynoldson
Lenny Nelson
Mark Schlag
Michael Ballantyne
Mike Greene
Mike Keller
Nick Schuitemaker
Peter Oliver
Sam McCaskill
Zack Stoddard