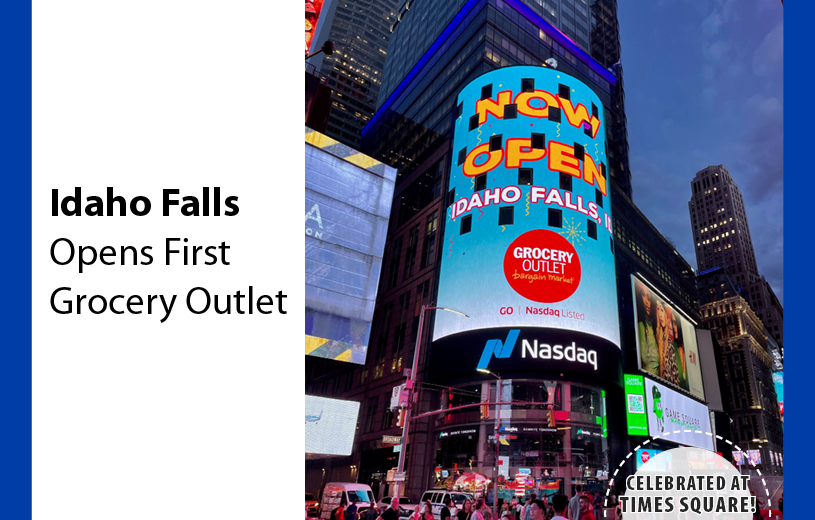 TOK Commercial is pleased to announce that its commercial real estate brokerage team facilitated the site selection for the first Idaho Falls Grocery Outlet Bargain Market store, located at 2455 East 25th Street. The new store, optimally positioned in the market's high traffic retail corridor, was celebrated in both Idaho Falls and New York City, where digital signage at Times Square heralded the event.
---
Brian Wilson and Brent Wilson of TOK Commercial represented the property owner in marketing the space and facilitated negotiations between Grocery Outlet's local owner/operator and the landlord. The property's signalized, hard corner location featuring exceptional visibility as well as adjacency to major employers and national retailers, were key to landing the Grocery Outlet tenancy. The over 18,000 square foot interior space was finished to tenant specifications and officially opened to the public on July 14, 2022, after a well-attended Ribbon-cutting ceremony.
Brian Wilson, TOK Commercial's lead agent on the transaction expertly managed the leasing process to ensure that the Grocery Outlets store was able to open on time. Mr. Wilson shared, "It was exhilarating to play a role in bringing Grocery Outlets to the Idaho Falls market. Our team enjoyed achieving both the landlord and tenant's top priorities as we all worked together toward our shared goal."
Douglas Everett, Idaho Falls' Grocery Outlet store owner/operator, mentioned that his team is "thrilled to provide the community with an exceptional, value-centric, friendly shopping experience each and every day." Grocery Outlets, with over 400 stores across the nation and more than 1.5 million regular shoppers, is the nation's largest extreme value retailer offering consumers bargain deals on brand name groceries including fresh meat and produce, as well as natural and organic NOSH items.
TOK Commercial, with offices in Idaho Falls, Boise and Twin Falls, is Idaho's largest full service commercial real estate company, offering Brokerage and Property Management services. The firm's 32 independent contractor agents represent clients across Idaho.