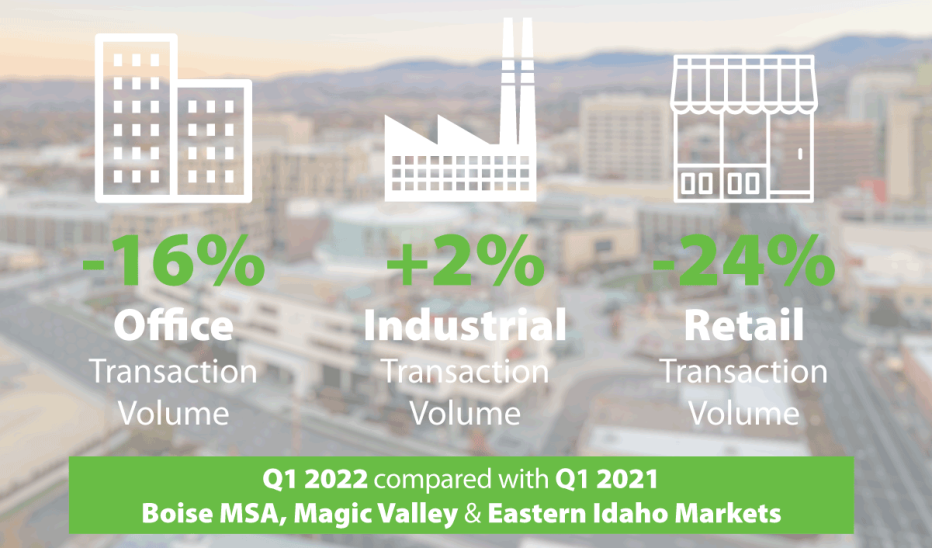 NEW TRANSACTION RECORDS
Nothing could have prepared our team for the exceptional level of brokerage activity that Idaho experienced in 2021. The year got off to a strong start and continued gaining momentum with each passing month. Our team crushed all of our historical transaction records, exceeding our previous high-mark by 50%, and launching the firm into a new brokerage era.
FORECASTING | CRE OUTLOOK
As we consider the outlook for commercial real estate across Idaho, this month's Market Health series will consider the potential impact of larger economic variables on different product sectors.
We believe that as COVID transitions from a pandemic to an endemic part of our lives; surging inflation is targeted by the Federal Reserve; and, the economy pushes past supply chain and labor complications; commercial real estate will continue to play a critical role in the success of retailers and restauranteurs connecting with consumers; be sought after as a highly valued place to meet and collaborate with professional teams; offer an attractive financial vehicle for investors; and, provide numerous profitable opportunities for developers.
Enjoy the read!
IDAHO COMMERCIAL REAL ESTATE TRENDS
INDUSTRIAL PRODUCT
2021 was a strong year for industrial construction with 1.2 million square feet delivered in the Boise MSA. Speculative construction comprised over 50 percent of total construction (617,000 square feet), reaching an all-time high. Top spec projects included three new buildings at AI Meridian Business Center in Meridian and 140,000 square at 16570 Northside Blvd in Nampa. High demand ultimately resulted in many speculative spaces leasing before building completion. Of the new spec space delivered in 2021, only 7 percent of space is still available. The Eastern Idaho market also had a banner year for construction with 507,000 SF delivered. The majority of this new product was completed at Andersen Business Park.
Construction in the industrial sector is not expected to slow down in 2022 with over 2,000,000 square feet of new space anticipated to deliver in Boise. Growth will be most prevalent in Canyon County with projects such as Fuller84 Business Park (464,500 SF) and 305,300 square feet at North Ranch Logistics. The Magic Valley will also see a rise in industrial development with Phase 1 & 2 at Northbridge Junction (181,400 SF) set to deliver in Jerome as well as a new 240,000 SF facility for Agri Beef.
OFFICE PRODUCT
Despite the pandemic and the uncertainty of how best to work in office space through surges in the virus, 2021 was a record year for net absorption in the Boise MSA Office market. Nearly 1.2 million square feet of positive net absorption occurred throughout the valley—marking the first time net absorption has surpassed 1 million square feet. This strong absorption caused vacancy to tighten significantly from 7.3 percent at the end of 2020, to just 5.4 percent at the end of 2021. Multitenant vacancy also declined dramatically from 11.2 percent to 9.5 percent in 12 months. This decline was despite nearly 639,000 square feet of new office space entering the market, 19 percent of which was speculative construction.
RETAIL PRODUCT
Downtown Boise will see a number of new apartment projects complete construction in 2022, bringing with them new ground-floor retail spaces for lease. Outside of the downtown core, a large portion of the market's new construction is focused near new grocery-anchored centers such as the WinCo at Chinden & Linder, Costco at Chinden & Ten Mile, and in Star near the new Star Town Center which will be anchored by Albertsons. During the pandemic, grocery-anchored centers continued to see strong foot traffic since consumers still needed to get groceries and pick up prescriptions. Many of these grocery stores saw increased traffic driven primarily from increased online grocery pick-up availability—which some estimate to grow another 20 percent nationally in 2022.
LAND DEVELOPMENT
In-migration remained strong in 2021, with Idaho remaining the fastest-growing state in the country for a 5th consecutive year according to U.S. Census Bureau. The majority of growth continued to be in the Boise Metro, recording an annual growth rate of 2.6 percent. The Boise MSA's continued growth along with COVID-19's impact on larger metros drew more national home developers to the market, such as Lennar and KB Homes. With these developers trying to establish their footprint in the market, residential land activity skyrocketed. Over 4,500 acres of residential land sold in 2021, up 62 percent from 2020.
INVESTMENT MARKET
Investment transaction volume for 2021 was the second-highest level on record for the Boise MSA. $890 million in commercial real estate traded hands, up 44 percent from 2020. Multifamily product ended the year leading the market in investment volume with nearly $316 million selling. Industrial was the second strongest performer with $197 million in total volume. Retail product traded hands the most with over 60 sales occurring in this product type, totaling $189 million.
With cap rates continuing to compress and values rising sharply, the underwriting process for investors is becoming an even more critical component of each sale transaction. Uncertainties like how quickly an office property can lease up in this pandemic era, or what rents to use for apartment properties that are in some cases becoming unaffordable to tenants, to what vacancy reserve to use for warehouse space that is seeing record low vacancy levels, can cause investors heartburn as they seek to find a true valuation.
ECONOMIC TRENDS
INFLATION CLIMBS | CRE INVESTMENTS OFFER ATTRACTIVE HEDGE
The Consumer Price Index rose another 0.6% in the past month, which marked a 7.5% increase from last year. The gain was greater than market forecasts and increases the probability of Federal Reserve interest rate hikes beginning in March and continuing through the rest of the year. As the Omicron variant surge abates worldwide, logistics experts anticipate that many supply chain challenges will also ease, which should help moderate material costs of goods.
Investors, seeking diversification options for their funds, view commercial real estate as an attractive financial vehicle as price appreciation, significant capital, and available debt offer plenty of opportunities for those looking to deploy funds out of the stock market and into real estate assets. Secondary and tertiary markets (like Boise, Idaho Falls, and Twin Falls), which are currently outgrowing the nation's urban centers, will be primary targets of investment.
LABOR MARKET | IDAHO EMPLOYMENT POSTS HISTORIC GAINS
January's startlingly rapid pace of job creation (467,000 new jobs) across the U.S., signaled positive news for employers and laborers alike. As new jobs emerged, wages soared, which was welcome news for workers seeking to keep up with inflationary pricing.
Idaho's labor market is exceptionally tight. Total employment at the beginning of 2020 was 867,117 compared with December 2021's total employment of 887,379 - a significant net gain. Likewise, Idaho's unemployment rate pre-pandemic was 2.6% which is 0.2% higher than the state's current rate of 2.4%, placing Idaho in the top five in the United States for the lowest unemployment rates per state. Idaho has facilitated much of this growth through a state budget surplus and is offering significant tax relief (a recent $64 million unemployment tax cut) and continued investment in economic drivers. The national unemployment rate in December was 3.9%.
CRE NEWS
WealthManagement.com | 25 U.S. Markets Adding the Most Multifamily Units this Year "The biggest increases in units to be constructed in 2021 will take place in smaller markets, including Louisville, Ky. and Charlotte, N.C., as opposed to big coastal cities like New York and San Francisco."
RestaurantBusinessOnline.com | The Fierce Competition for Drive-thru Real Estate "Finding drive-thru sites is increasingly difficult. The sites are getting more expensive and companies have to get creative when they want to expand."
CoStar | Starbucks Plans to Open More U.S. Stores than it Closes "The opening of more sites will lead to as many as 500 additional retail outlets across the U.S. for the coffee chain by the end of this year."
SFGate.com | Slack to Sublease 200,000 square feet of Office Space in Move to 'Digital-First' Work "The tech company is subleasing its space at 45 Fremont St., which spans more than 200,000 square feet, just three years after it moved into the space around the time of its IPO."
Trepp | Real Estate Looks Solid Despite Inflation and Rate Risks "While the cause for worry remains relatively low, the chances of a higher inflation regime have increased [based on analysis of] the key underlying transmission mechanisms of inflation to commercial real estate performance and their current state - namely, interest rates, real wages, and corporate earnings."
IDAHO NEWS
Axios | If You Think Crypto is Still Overvalued, Try Idaho Real Estate "Prices continue to soar, with home prices in 'tater state cities topping the ranks of the country's most-overvalued markets, according to Fitch Ratings. The credit rating company compares current market prices with a proprietary estimate of "sustainable" prices, using the discrepancy to determine which cities are "overvalued" or "undervalued."
BoiseDev | Facebook to Build Large Data Center in Kuna "Meta Platforms – commonly known as Facebook, announced it will build an $800 million data center in Kuna. It's the culmination of a three-year project to land the large Silicon Valley social media company. "
BondBuyer | Strong Economy, Robust Reserves Earn Idaho a Second Triple-A Rating "The upgrade reflects the state's continued positive economic and demographic outlook and efforts to increase reserves to protect against the state's volatile economic and revenue structure, Moody's analysts wrote."