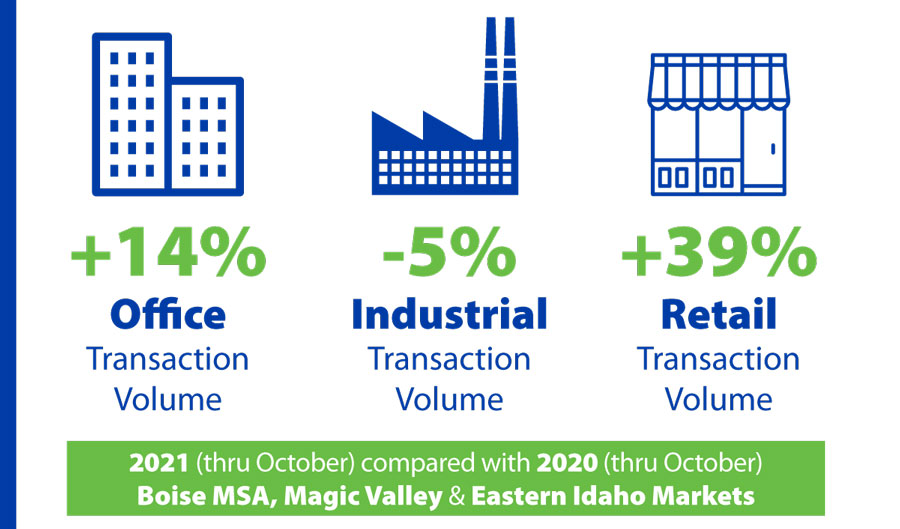 2021 INSIGHTS | TOP 5 IDAHO CRE TRENDS WRAP-UP
This month, TOK's Market Health series offers a summary of the key trends that impacted Idaho's commercial real estate product over the past year. Our Holiday Wrap-Up includes our Top 5 takeaways of 2021 ranging from retail's rebound to office's outlook, industrial's inventory, land's lessons, and finally, investment ideals.
Enjoy the read!
RETAIL | Retailers and restaurants are enjoying substantial success across Idaho with leasing activity driven by a healthy mix of new and expanding businesses.
PRESENT MARKET CONDITIONS
Boise MSA: The Boise MSA has seen a large number of restaurant leases in the past year. Over 95,000 SF of restaurant space – newly constructed and existing – has leased.
Magic Valley: Restaurants make up the majority of new to market tenants leasing space in Magic Valley.
Eastern Idaho: Nearly 77,000 SF of retail space has been leased to tenants who are new to the Eastern Idaho market.
THE RETAIL WRAP? 2021 has seen strong retail absorption in each market across Idaho. Many of the tenants leasing space are not easily replaced by online purchases; restaurants, salons, and health services are the variety that draw shoppers to brick-and-mortar locations. With 40% of leases occurring with expanding retailers, future growth for each Idaho market is expected.
OFFICE | Office space is in high demand as companies discover the unique value of their real estate to engage their talent and clients alike.
PRESENT MARKET CONDITIONS
Boise MSA: Overall vacancy has declined from 7.3% at the end of 2020 to 5.6% at the end of November.
Magic Valley: Magic Valley continues to see tightening vacancy, for both overall vacancy (includes single and multitenant buildings) and multitenant buildings.
Eastern Idaho: Vacancy in Idaho Falls steadily declined throughout 2021, dropping to just 4.4% by the end of November.
THE OFFICE WRAP? Unlike larger markets like San Francisco, Seattle, and New York, whose pandemic lockdowns have slowed the return to the office, Idaho markets have rebounded quickly by comparison. Local and regional office tenants moved back into the office after brief work from home transitions and in some cases are seeking to expand, further reducing the vacant space available.
INDUSTRIAL | Lack of inventory has driven vacancy rates to precipitously low levels even as new product coming online is anticipated to only minimally remedy the issue.
PRESENT MARKET CONDITIONS
Boise MSA: Industrial vacancy has been declining throughout the year, remaining below 2% since the end of Q1.
Magic Valley: Vacancy in Idaho Falls hit a historical low, 1.8% in November.
Eastern Idaho: Industrial product remains remarkably scarce in Twin Falls with total vacancy at just 0.47%.
THE INDUSTRIAL WRAP? The demand for industrial space grew stronger throughout the pandemic due to the insatiable growth of E-Commerce and increased consumer demand for goods. This pushed inventory to historic lows throughout the year, with vacancy currently below 2% across all Idaho Markets. Developers have been working hard to increase inventory, however supply chain issues have delayed construction materials, resulting in many speculative projects being pushed to 2022 for delivery. Over 2 million square feet of construction is planned for the coming year. These new industrial developments will prove more crucial than ever in helping achieve a stable balance between supply & demand.
LAND | Pricing hits records as national developers arrive and permit approvals slow.
PRESENT MARKET CONDITIONS
Boise MSA: Industrial land was in highest demand, ultimately driving median price per square foot up over 50% since 2019.
Magic Valley: Both commercial land and industrial land values increased in 2021.
Eastern Idaho: Commercial land consideration is $28.7 million, significantly up from last year.
THE LAND WRAP? The staggering rise in land prices across the state continued to be the year's most significant trend. As more national developers have entered Idaho's markets throughout the pandemic, competition for land has become a major driver for increased land values, especially amongst industrial and multifamily dirt. Demand for land has not only impacted pricing but the development process as well. With more builders competing to keep up with housing and surrounding commercial developments, the volume of permits submitted has risen. This has caused a slowdown in the approval of building permits throughout the state.
INVESTMENT PROPERTIES | The pace of transactions is robust even as CAP Rate compression is the norm.
PRESENT MARKET CONDITIONS
Boise MSA: There has been nearly $800 million in investment product traded in the Boise MSA in 2021.
Magic Valley: Office investments have seen compressing cap rates in 2021, dropping from 6.0% at the end of 2020 to 5.6% currently.
Eastern Idaho: Cap rates for retail investments have declined from 7.3% to 6.6%.
THE INVESTMENT WRAP? Investment product that is well-priced and includes tenants with strong financial history is in increasingly high demand across the state. Cap rates as a result continue to compress in most sectors as investors seek to place their money in hard assets like real estate. NNN leased investments are often seeing multiple offers given the fact that they require less involvement on behalf of the owner.
ECONOMY | Idaho's economy is optimally positioned to continue 2021's momentum.
PRESENT MARKET CONDITIONS
The nation's economy is adjusting to significant movement in both inflation and the labor market. We anticipate these key benchmarks will impact Idaho's CRE markets affecting values and volume (either directly, or indirectly) in the near term.
THE ECONOMIC WRAP? The Federal Reserve, in response to increasing evidence that inflation (which surged to 6.8% in November, the highest rate since 1982) is both real and persistent, will significantly decrease its bond purchases (commonly referred to as tapering) and anticipates three interest rate hikes to occur in 2022. The Fed is concerned that higher inflation rates will put pressure on the economy's recovery as consumers' spending power diminishes.
The national labor market appears to be recovering, albeit in a complicated dance of fits and starts. Jobless claims continue to tighten, with weekly claims for unemployment benefits dropping to their lowest level since 1969, while the number of job openings is at an all-time high of more than 11 million.
In Idaho, full employment arrived early in 2021 and has stayed the course. Idaho's Unemployment Rate is 2.6% (one of the best in the nation) and the jobs market across the state continues to be highly competitive for all employers - from manufacturing to health care to the service industry. All five of Idaho's MSAs saw year-over-year nonfarm job gains. Pocatello posted the greatest increase at 5%, followed by Lewiston (3.6%), Coeur d'Alene (2.7%), Idaho Falls (2.7%), and Boise (2.6%).
CRE NEWS
New York Times | The Holiday Shopping Season Is Here, But Is It Back? "Foot traffic soared about 48 percent from last year, though remained down about 28 percent from 2019, according to data from Sensormatic Solutions."
CNBC | Target Will Keep Stores Closed on Thanksgiving For Good "What started as a temporary measure driven by the pandemic is now our new standard — one that recognizes our ability to deliver on our guests' holiday wishes both within and well beyond store hours," Target CEO Brian Cornell wrote in a note to employees."
McKinsey | U.S. Consumers Would Rather Switch Brands or Retailers than Wait For Out-of-Stock Items "39 percent of respondents said they switched brands, while 32 percent went to another retailer."
Oxford Economics | United States: 2022 Themes - A MESSI Year Ahead "We anticipate 2022 will be a 'MESSI' (Moderating Expansion with Sticky Supply-driven Inflation) year for the US economy."
IDAHO NEWS
BoiseDev | Boise Inks Deal with Amazon for Air Cargo Facility "The Boise City Council unanimously approved an agreement to lease 150,000 square feet of land near the Boise Airport to Amazon to build a 30,000 square foot air cargo facility."
Realtor.com | 10 Cities People are Flocking to for Jobs, Boise #6 "Think of it as the "Great Reshuffle." Because Americans aren't just quitting old gigs—they're also taking on new ones, wherever they may be. And often that means pulling up roots and buying or renting a home in a brand-new town, city, or state."
CBS News | The Least Affordable Housing Market in the U.S.? Boise "Boise is having its biggest gold rush since the 1860s. It's called real estate, and the Idaho city now has the least affordable housing market in the U.S., according to one study. The issue is home prices in Boise dwarf residents' incomes."
The Morning News | SCNOW | Cities with the Highest Price to Rent Ratios, #12 Boise, Idaho. Price to rent ratio: 22.90. "Typically a PTR ratio of 21 or higher is considered good for real estate investors who want to ensure cash flow properties always have a tenant. Rent prices have increased 11% in the past year, and only 1.4% of rental properties are currently vacant."
RocketHomes | The 15 Most Promising Cities in 2022 | #1 Boise, #3 Couer D'Alene, #5 Idaho Falls, #13 Pocatello "Boise ranked higher than 90% of the country for job and high-tech GDP growth and reported some of the lowest unemployment and property crime rates for the metro areas on this list."