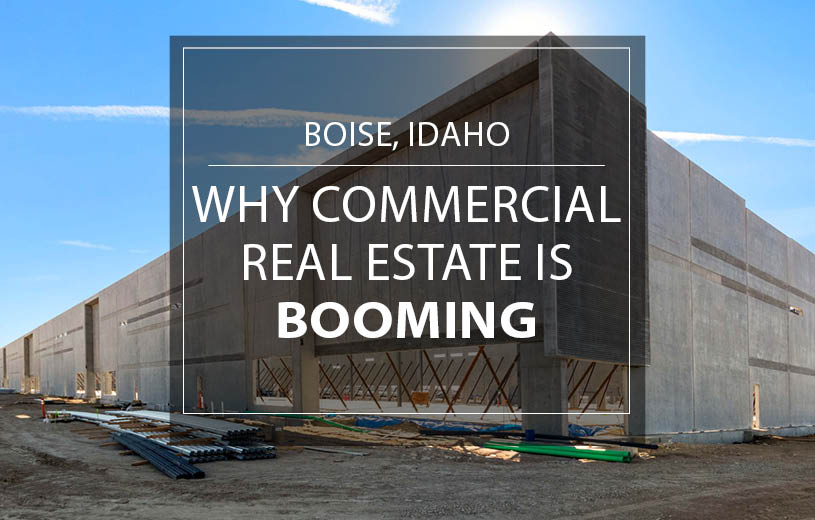 Why is commercial real estate in Boise booming?
Any conversation about Boise inherently involves the word "growth". The pandemic boosted growth in the Boise Valley and also in

the entire state of Idaho.

As Boise's demographic growth continues, so does the area's commercial real estate market.
1. Residential Real Estate Boom
Boise, Idaho's rapid growth is attracting a wide variety of people from tech workers no longer tethered to a specific geographic location to do their work, to millennials in search of an outdoor lifestyle that is family-friendly, and retirees looking to grow their investments while living in an amenities-rich environment. Boise experienced heavy inbound migration after the on-set of the pandemic, with United Van Lines recording a 60 percent inbound move percentage. Zillow reports Boise ranking high for the number of available rental units, which provides options for those looking to relocate to a new area. Zillow also ranked Boise as a

top mid-sized metro to watch

. Local home values are very strong and continue to rise, with an expected 3.3% growth into the next year. As cities across Idaho continue to boom, some of the biggest metro areas in the nation (Los Angeles and New York City)

lost more residents than anywhere else

.
2. Commercial Real Estate Demand & Tight Vacancies
The residential real estate boom also impacted the Boise Valley's commercial real estate market. Multifamily sales volume exploded in 2021, with 84 percent of the deals occurring in Ada County. TOK Commercial's Q2 2022 Industrial Market Report reveals that total industrial vacancy hit a historic low of 1.0 percent, demonstrating Boise's ability to attract manufacturing, logistics, warehousing and flex users. The influx of new business has created exceptionally low vacancies, making the market highly competitive and challenging to secure good, functional space. In response, more national industrial developers entered the Boise Market. A few of the notable projects that these developers currently have under construction include North Ranch Logistics (305,300 SF) and Fuller84 Business Park (464,500+ SF). These large developments are anticipated to attract even more large, out-of-area users to the metro, becoming a highly competitive alternative to Salt Lake City or Reno.
3. Top Best Places To Live Lists
The Boise Valley is frequently lauded as a great place to live, due to its low crime rate and abundance of outdoor recreation. A recent ranking by U.S. News identifies Boise as the 13th best place to live in the U.S. in 2021. As one of the fastest growing states in the country, Idaho as a whole is booming with new activity. Multifamily land in Ada County has seen increasing sales volume year over year. This can be attributed to the countless amenities that Boise has to offer, such as its four seasons, great economic opportunities, and outdoor lifestyle which includes hiking, mountain biking, snow and water skiing, fishing, and running.
4. Booming Boise
Commercial Real Estate is thriving in Boise due to many factors. As single family residential real estate flies off the shelves, so too does commercial real estate. Investment opportunities for office, industrial and retail properties are snapped up before they hit the market. New businesses are opening daily and vacancy rates for restaurants, professional office space, warehouse space and retail storefronts are very tight. The Boise Valley is not only home to Boise but also the surrounding cities of Meridian, Eagle, Star, Kuna, Middleton, Nampa, and Caldwell. Boise is the capital of Idaho, and also serves as Idaho's center of commerce, politics, population, cultural events, and the blue field that personifies the Boise State Broncos. Although Idaho is famous for a vibrant agricultural market, and is nationally known for its potatoes, the state has an equally vibrant economic environment for high-tech, healthcare, education, transportation, service, tourism, and retail industries. Many nationally and globally recognized corporations have a home in the valley including Micron Technology, Hewlett Packard, Fred Meyer, Albertsons, J.R. Simplot Company, LambWeston, and many others. To keep current with commercial market trends, subscribe to receive quarterly market updates.