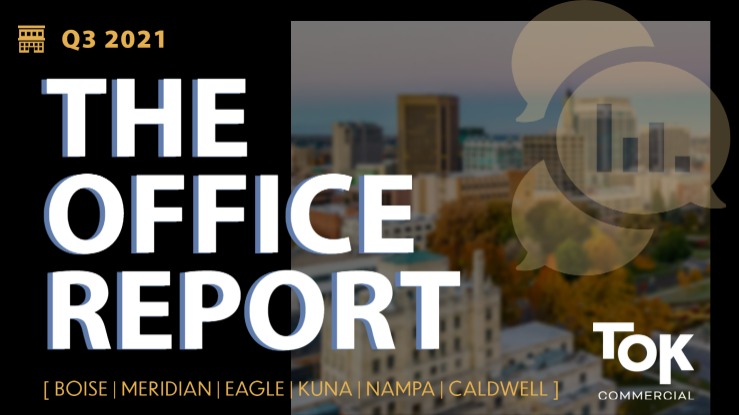 Transaction volume picked up significantly in the second quarter, with an increase of over 50 percent in the amount of office square footage absorbed. Midway through the year, net absorption in the Office market already outpaced the amount seen at the end of 2020. Meridian and Downtown Boise have had the most net absorption occur, 192,000 square feet and 105,000 square feet, respectively. Projected supply for Meridian, the market's second-largest submarket, is currently 10 months.
Overall asking rates have increased in the past year, rising from $17.50 per square foot to $18.00 (FLSV, annual). Class A rates have remained flat. In Meridian, where a number of new properties have been delivered in the past year, average asking rates have increased by $1.25 per square foot.
Medical offices and health services companies made up nearly one-third of spaces leased in the past year, with a large majority of the transactions in second-generation space. Leasing activity for new medical space has occurred, albeit in fewer instances, with notable deals like Saltzer Health at Ten Mile Crossing and Appleton Clinics at Eagle Lakes.
Office space absorbed by technology companies make up around 9 percent of deals in the past year and accounts for 84,000 square feet of space absorbed. Many of these tenants are leasing space in Class A spaces, primarily in Downtown Boise and Meridian.
As vaccinations continue to roll out across the area and country, companies are now tasked with deciding how, if, and when employees return to the office. Flexible or hybrid work environments, where employees work in the office as well as outside of it during part of the workweek, are certainly on the rise, but the need for an office space to work within is deemed necessary by many companies in the Boise MSA as they find the synergies inherent in communal work to be substantial.
For more information on the current state of the office market, you can read our current quarter's Office Market Report or subscribe to receive quarterly updates.