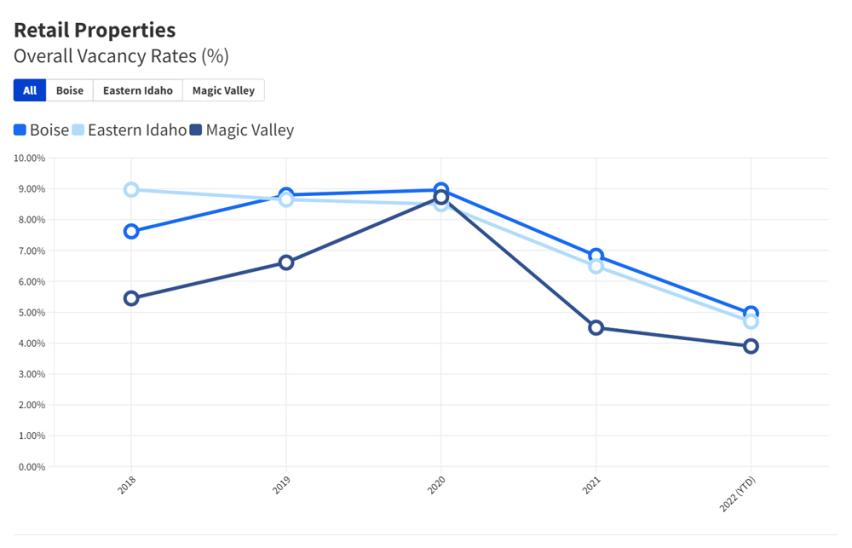 The Big Picture: Retail space across all Idaho markets remains limited as vacancy dropped to record lows in June. In the Boise MSA, total vacancy hit a 23-year low of 5 percent. In addition, unanchored vacancy has stayed below 5.5 percent throughout 2022. In Eastern Idaho, total vacancy has been declining throughout the year and is currently at a historic low 4.7 percent. The Magic Valley has seen the lowest vacancy rates of all markets at 3.9 percent, while unanchored vacancy is even lower at 2.9 percent.
BOISE MSA: Overall vacancy in 13 of the 18 submarkets is below 6 percent.
EASTERN IDAHO: Overall vacancy in South Idaho Falls, the largest retail submarket, hit a historic low of 0.9 percent in June.
MAGIC VALLEY: Unanchored vacancy for the Twin Falls area reached a record low of 2.5 percent in June.
The Takeaway? Retailers have proven to be savvy survivors and vacancy rates indicate that they are bullish on the future. Pivoting during the pandemic shutdowns, restaurants enhanced their drive-thru and curbside pick-up options while many retailers strategically rightsized their spaces, which could benefit their business models as consumers' demand for goods and services temporarily wane as a result of inflation.
View our Retail Vacancy Rates interactive graph, here.