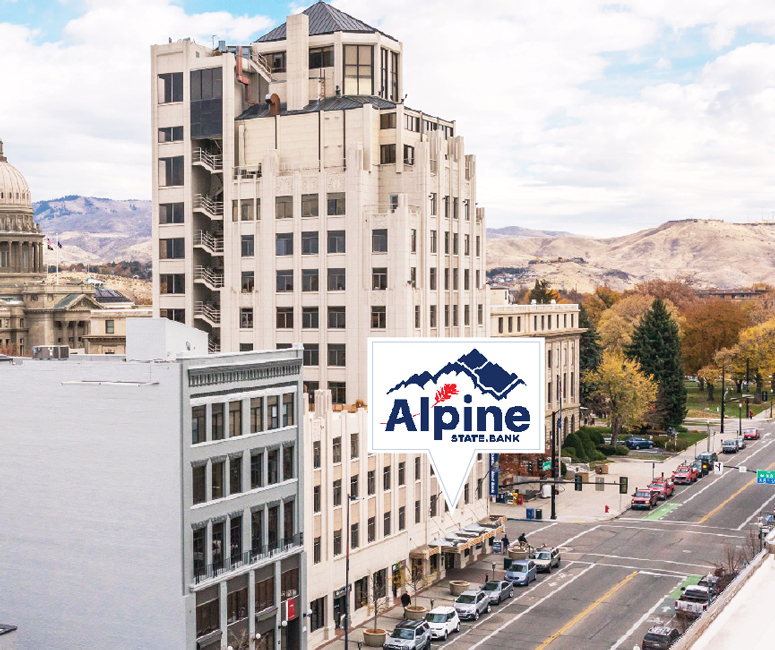 The Situation: New Idaho community bank plans first location in downtown Boise
A new Idaho community bank decided to launch operations in the Treasure Valley by targeting Boise as their first Alpine State Bank location.
The bank, hoping to open in the market as soon as possible, reached out to Thornton Oliver Keller to identify temporary space, since they had already identified a location which required a lengthy remodel.
Our Response: Market knowledge aids the perfect opportunity
JP Green & Michael Ballantyne presented multiple possibilities, making serious inquires on the top candidates, however all options were quickly snapped up in Boise's competitive downtown submarket.
After consulting with in-house brokers teams, JP and Michael became aware of Mountain West's pending move to exit their space in the Hoff Building. The team moved quickly to seize the vacant space, knowing that it would require minimal tenant improvements and would match Alpine State Bank's business requirements perfectly.
The Results: Quicker open with sights on more locations
JP and Michael's nimble representation, persistent engagement in the market, and efficiency throughout the transaction process will allow their client to open sooner (Jan. 2020) than planned.
Alpine State Bank's presence in the Hoff will offer them a prime retail presence downtown, feature a prestigious address, and afford them expansion space for their office staff.
The growing bank has retained JP and Michael as their tenant representative as they plan to open several additional locations across the Treasure Valley.
Client Recommendation:
"We are pleased to have partnered with Mike and JP for our office needs as Alpine State Bank enters the Idaho market. Their focus on detail, understanding our needs, and delivering solutions is one example of their commitment to excellent service!""
Mark Houston, President & CEO | Alpine State Bank