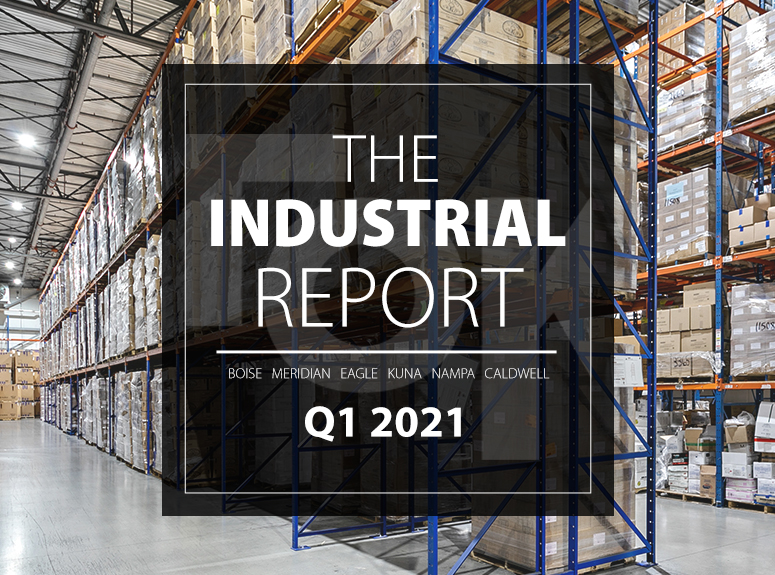 The industrial market had another banner year in 2020, ending the year with record-breaking absorption, construction, and total number of transactions. The most notable project of the year was the 2.6 million square foot Amazon Distribution Center in Nampa, making the company a dominant player in the local industrial market and ultimately creating more economic growth throughout the Treasure Valley.
2021 is expected to be another strong year for the Industrial market with over 800,000 square feet of new construction slated for delivery. The majority of these projects will be speculative construction including two buildings totaling 280,000 square feet at 16570 Northside Blvd in Nampa and 207,000 square feet on Hickory Avenue in Meridian. It is expected that many of these spaces will lease up within 3 to 5 months, keeping vacancy rates in the 2.5 to 3.5 percent range. The competitive market will also keep lease rates on an upward trend, hitting the mid- to high-$0.70 per square foot range by late 2021.
The demand for large warehouse and distribution space will continue to trend in the Industrial market, largely due to the major surge in online shopping over the past 12 months. This has pushed consumer goods companies to add more distribution space, like Amazon. In addition to their new large fulfillment center in Nampa, the company is planning to build an estimated 250,000 square foot sortation center at Boise Gateway Industrial Park in South Boise as well as a 140,000 square foot delivery station in Meridian. These two additions will bring up the total number of Amazon facilities in the Treasure Valley to six, making the company one of the largest employers in Idaho.
For more information on the industrial market, you can read our current Quarterly Industrial Market Report or subscribe to receive monthly updates.